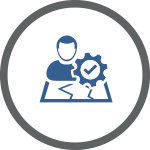 Attendance Management
You can monitor your workforce's attendance in real time and be able to react more quickly when absence is discovered with the CanDev attendance management system. The CanDev system records the GPS location and the time of the Employee's clock-in and out for payroll and customer billing purposes.
---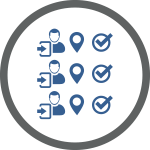 Attendance Dashboard
The Attendance Management Dashboard provides schedulers with a view of all shifts, coverages, clock-in and outs, timesheets, the location of the clock-in, and alert notifications, all on one screen. This allows schedulers the ability to monitor, in real time, the operations attendance situation and ensure that no shift is left unattended. The dashboard is designed to update every minute, so Schedulers can have the latest information.
---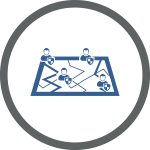 Location Tracking
You can track the location of your workforce and coordinate their positions for logistical purposes with the CanDev Systems location tracker. Your workforce can be tracked with our mobile application to improve on logistical efficiencies, readiness, and being able to view your list of available assets in real time.
---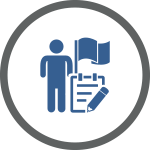 Signatures Authorization
Your customers have the ability to sign the Employee 's clock-ins and outs digital timecards to verify their attendance at the customers locations. The CanDev Systems clock-in and out digital signature feature will provide the customers with a report attached to their invoice that will display the list of managers signatures and the shift that it applies to. The signature report will also include the GPS records with the managers name for any future reference requirements.
---
Address Dashboard
The Address Dashboard shows the list of active sites that are currently being attended to by your employees. This feature gives the Dispatchers and Schedulers a way of assessing the current customer requirements and helps them to monitor staffing levels in all areas of operation.
---