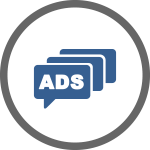 Advertisement
A sales process organizes your sales activities, so your sales team can perform optimally. The CanDev Systems sales process is designed to make sure that all your sales staff are on the same page when it comes to measuring how far they have come to establish a new customer. Information about the new relationship is kept and distributed to every business development team member involved in the sales process. The first step of the sales process is the advertisement process. The CanDev Systems advertisement process is designed to help your organization promote your service and products and measure the success of the promotion. It will ask you to list your products and services and their competitive advantages. The CanDev Systems advertisement system also displays a list of the advertisement sources available to you, identifies costs, identifies demographics, arranges promotional budgets, and measures responses to the promotions to determine their effectiveness.
---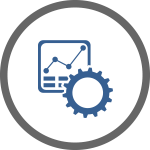 Marketplace System
The CanDev Systems Marketplace System (SMRS) is designed to provide your business development team with an overview of your organization's position in the marketplace. The overview includes a list of customers, their current providers, and their market share. With the information about your businesses position and list of customers, the SMRS helps your business development team organize sales campaigns by identifying opportunities in specific neighborhoods, or with specific customers. The SMRS gives your business development team a list of retailers and condominiums by city, ward or neighborhoods. You can also track your competitors business development progress.
---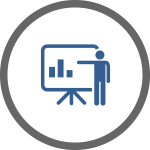 Sales Campaigns
A sales campaign is a planned sales strategy that uses one or more ways to reach potential customers and convert them into actual customers. Sales campaigns are a concentrated effort with a set term in a specific target area. The CanDev Systems Sales Campaign System (CCS) helps to put resource limits on certain areas so that your sales team can evenly concentrate on opportunities in other areas. The CCS system organizes your sales activities by creating campaigns, setting the terms and area of operation, choosing the method of advertisements and assigning individuals to manage the campaign. The CCS system allows business development managers to arrange their team's schedules and map their campaign routes.
---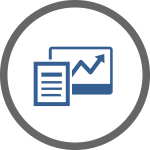 Leads List
Your organization invests heavily in gaining access to sales leads through advertising, trade shows, direct mailings, and other marketing efforts. A sales lead is someone or an organization who shows interest in your product or service and who provides contact information. This is your organizations' first opportunity to direct efforts in gaining a new customer. Sales leads are the most precious possessions a sales team can have, and your organization needs to manage them carefully. The CanDev Systems Sales Lead System enables you to record leads, schedule and measure communications with the lead, record the source of advertisement the lead came from, and view the possible competitor's contract end dates.
---
Negotiations
Negotiations are discussions aimed a reaching an agreement. In this context, it means to establish with a potential customer what the terms and conditions will be in the contract to deliver products and services. Your organizations' sales team and the prospective buyer will have a clear understanding of what terms and conditions are during the negotiation phase of the sales campaign. Your sales team will be able to use templates to identify the prospective buyer's interests, considerations, options and establish the no, go point.
---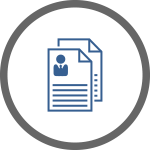 Customer List
Managing all your customers equally is important. Viewing a list of your customers in variable arrangements will help your sales team organize their communication and schedules. The CanDev Systems Customer List Feature (CLF) shows you a list of customers with quick reference details that allows you to scan your sales teams performance. The CLF list of customers describe your relationship status, how many service hours your organization is managing, how many times they have been communicating, how many outstanding issues that need resolving, revenue and expense, when the relationship began, and the rate of growth your relationship is experiencing.
---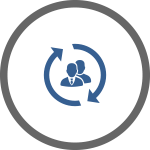 Customer Retention
Customer retention efforts involve many initiatives to maintain that relationship. The most popular initiatives to retain customers is through feedback surveys that ask your customers how satisfied they are and where you can make improvements. But surveys are not enough in this highly competitive environment. Your organization needs to know more about how and when the customer makes decisions. Your Organisation needs to take a proactive position when it comes to showing the customer you care about your relationship with them. The CanDev Systems customer retention program enables users to record life events into the CanDev Systems CRM calendar, manage customer appreciation initiatives, schedule customer meetings and identifying critical issues before the customer loses confidence in your ability. Being able to be proactive is the fine line between have a successful relationship and losing that relationship.
---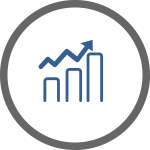 Sales Performance and Analytics
How do you know if you're successful? You measure it! The CanDev Systems Sales Analytics Systems (SAS) measures all of your organization's sales activities and compares them to metrics and statistics on an easy to understand graphical charts to help you optimize your sales operation. The CanDev Systems sales analytics system allows your sales team to discover what is the most effective advertisement sources so they can make better decisions on how to invest their advertisement resources. Give your sales team a real competitive advantage by showing them their performance objectives and the results of their efforts with the CanDev Systems CRM Sales Performance System.
---